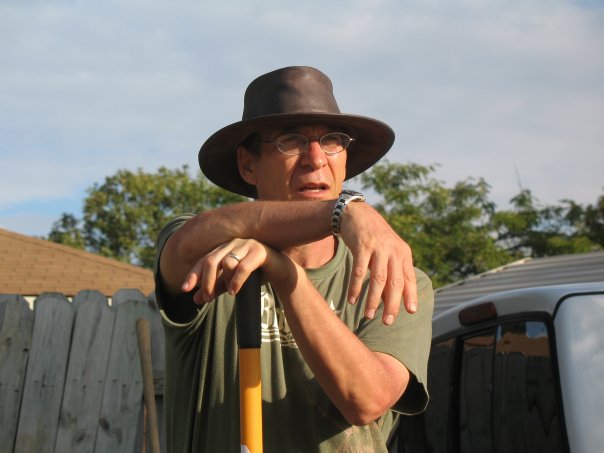 Hebrews 12 is a famous passage in which the author (be that who it may) is trying to encourage the original audience to persevere and press forward in their lives and walks with God.  He (or she or they) creates a scene straight out of the Greek Olympic games, with a huge stadium cheering on their favorite athletes.  The particular event he is envisioning is not mentioned, but I like to think it is a foot race, possibly a long distance one.  The runners are nearing the finish line, but are losing energy and need the crowd to motivate them.  The crowd begins to cheer louder, and the very sound of the roar of their shouts provides a burst of power the athletes never thought possible.  Perhaps one runner chances a quick glance to the stands and sees the very athlete who had trained him for this race.  His coach's running days have been long over, but he carefully put all his experience, wisdom, and passion into the younger runner.  The sense of pride, joy, and endurance are transferred into the younger runner just by seeing his mentor along the side of the track.
In this way, Hebrews is reminding us that as believers, we have that "great cloud of witnesses" in heaven itself, cheering us on.  They are the models and examples of those who persevered and saw the kingdom of Christ expanded in their lifetimes.  For each of us, there is something sad and yet inspiring when our own mentors, "coaches", pass on from this world to their heavenly place of resting.  Jim Nizza was and is that person for me.  I was only 22 years old when I did my SBS in Kona, Hawaii.  It was Jim Nizza's first SBS that he had ever led.  Jim already had tons of experience in missions, going back to the early days of YWAM.  I saw Jim as the YWAM Renaissance man.  It seemed to me that he had staffed almost every school in YWAM, and led or been on outreaches in every major area of the world.  For some reason, still mysterious to me, Jim saw something in me at that young age.  I had no experience in teaching or leadership.  I had never staffed any YWAM schools, and had only recently turned my life back to Jesus shortly before.  I was cocky and proud, and perhaps a wee bit sarcastic.  Yet, Jim took a chance and asked me to come on to SBS staff.  I am sure there are days where he regretted that decision.  Not only did he ask me on staff, but a few years later, he asked me to lead the SBS there in Kona.  Now, I have staffed, led, and worked with SBS for over 15 years.  I have had all my children in my SBS days (well, my wife actually had them).  I can't imagine my life without SBS.
I can still remember the day that Jim let me know that he had been diagnosed with cancer.  We were in the childrens' park on the Kona campus.  Shock would be an understatement to describe my emotions that day.  The diagnosis was that Jim would only live for perhaps another 4 months.  Initially, when Jim became ill, they thought he might not even live out the week.  Most in Jim's situation would have moved back to be near his family, living out his last days with those closest to him.  Jim's wife Barb is an amazing woman who was also one of the pioneers within YWAM.  Her work on preschool curriculum has blessed people all over the world.  Their two children were both young at this time.  He had already served missions for many years, and everyone would have thought that it was time for Jim to rest, attempt to improve his health, and spend his last days in peace.
Instead, Jim and Barb moved their family to Arkansas to pioneer a new YWAM base.  They had already felt God had called them to do this before Jim became ill, and they were still passionate to see this happen.  The property had been in Barb's family in the past as a Christian campus, and they believed God wanted them to reclaim this land.  Most healthy people don't want to pioneer a YWAM base.  It is hard work!  First, you have to travel all around begging for money to get the property and initial money you need to get started.  Jim did that.  Second, there is no "specialization of labor" on a pioneering base.  Everyone there does everything.  Jim went through a special training program just to be able to pass government regulations for the plumbing on the base.  Due to Jim's passion for the Bible, he also started a SBS, while pioneering the base, leading it himself!
Jim spent quality time with his family through this time, knowing each day was precious.  But, Jim never "retired".  He worked over the next 8 years on the Ozark, Arkansas campus.  See the link below for the Ozark base, and you will understand the fruit and labor that Jim and the staff put into this place.  Now, Jim is with Jesus in heaven.  No man I know deserves the "Good and well done my faithful servant" like Jim Nizza does.  He is not only my example, but all of our "great crowd of witnesses" in the SBS world and the whole church for that matter.  Let us then persevere through whatever obstacles we have in our own personal lives.  Let us see new SBS schools, ministries, and most importantly new believers in our lifetimes.  If you feel weary or overwhelmed, know that Jim Nizza is up there in heaven cheering us on, his life as an example of never giving up.