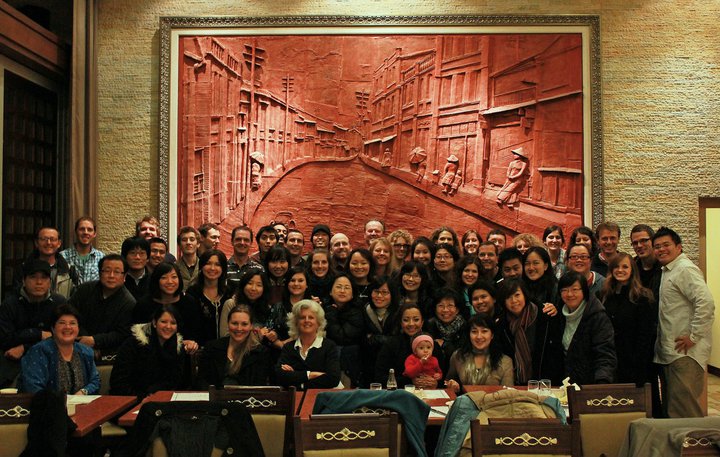 Over one year ago, our Hub support team for the SBS schools began to plan and dream of pulling all of our staff together for times of training and networking.  We had previously only had shorter conferences, and we knew that we needed to also provide more training for our precious SBS staff in the field.  Our personal goal as a family was to provide this for our SBS school staff throughout Asia and Australia.  One of our main ways to do this was to have a SBS Boost training time here in Taiwan.  In the last year, we have planned and raised funds to bring leaders from the developing world here.  Overall, over $4,000 was donated for travel and training costs.  Of the 75 in attendance for Boost, we had staff and leaders from Mongolia, South Korea, Cambodia, Thailand, Singapore, Malaysia, Taiwan, India, Australia, Uzbekistan, and the United States.  Four of our Hub staff paid their own way here to be resource teachers for the week.  In all, the teachers and I have over 100 years of Bible teaching and missions experience, and we attempted to pour all of this into the leaders and staff who came.
One goal of our Boost time was to network and see more pioneering projects begin.  Already, we are pioneering new SBS schools in Thailand, Russia, and Australia this year.  We prayed over people who have a desire to see new schools start in Malaysia, Indonesia, and throughout the islands of the Pacific.   What was quite amazing was the multiple languages we had represented at the training time.  From the front, we had our teaching translated into Chinese.  While the Chinese translation was going, we also had other groups at the back of the room translating into other languages.  There was Khmei for the Cambodians, Korean, and Russian for the Uzbeks all happening simultaneously!  It was like a picture of heaven from Revelation 7 where all peoples and languages are gathered around the throne of God, worshiping in one voice.
Our goal for the SBS Hubs is to see Boost happen all over the world.  We would love to see this training time offered in each region, and then eventually be able to make this training mobile as well.  We understand with visas and travel costs, not everyone will be able to come to our central Hub locations for Boost.  Until the time when the training comes to your region, we have made the teaching available online.  Videos from the main morning sessions can be viewed by clicking on the link below:
Audio from the morning sessions and some of the afternoon sessions will be available on the podcast site, www.thesbspodcast.com.  See the link on the right of this page to find more information.