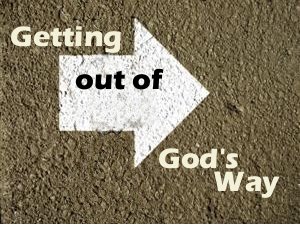 As teachers in the School of Biblical Studies, most of us would say that we want God to move during our lectures.
We pray before our lectures, send out emails to have our friends and supporters pray for us, and petition God to take our words beyond a mere speech and into the students' hearts.
But, what does that look like?
When God moves, is there a way to measure that?
Other than prayer, what else can we do to insure that the Holy Spirit has freedom in our classrooms?
After teaching for the last 10 years in the SBS, I have no formulas for you, no concrete steps to follow.
The simplest advice that I can give you is that if you want God to move, you have to move out of His way.
Now, that may seem obvious, but it's not as easy as it may seem.
Getting out of God's way may mean cutting content that you worked weeks to prepare.
Getting out of God's way may mean asking a student to share, having no idea where that may go (and I have seen it go into deep space on this one!).
Getting out of God's way will always involve some risk of faith on your part as a teacher.
Let me give you an example.
During the lectures on Mark recently, the teacher was doing an excellent job: giving the historical background, and then going verse by verse through the book.
It appeared that he would make it through the whole book by the end of the week but it would be close.
Then God stepped in and the instructor stepped out of the way.
Listening to the voice of God he asked a student share what she had been struggling with.
This student who has been losing her hearing over the last few years and following the lectures by lip reading, was challenged as she studied the life of Jesus; seeing others healed, but not experiencing that herself.
The teacher had made a hard choice.
He could have easily justified not asking her to share. There was still a lot of the book to cover.
He could have wondered what exactly she would say, concerned about the theological content.
Instead, he moved out of God's way and God moved in, and God did indeed move in a miraculous way as the student shared.
Soon, others were sharing their challenges and victorious praise reports that stirred the faith of the whole class.
The atmosphere within the school changed in an instant.
Will you get out of God's way?
What will it look like?
Letting a student share, having a ministry time, sending the students out to pray?
Most of the time, God will have us deliver the rich content and application we have already prepared.
We can't "plan" a movement of God anyway.
I for one am glad this teacher took a risk of faith.
I just hope when it is my turn to teach next that I am listening and willing to move out of God's way too.