Writing Out The Word…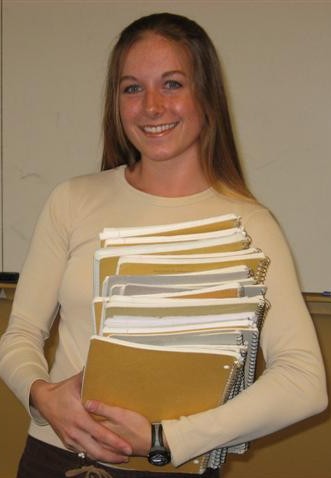 Kirsten Vandervelde tours with a theatrical production of Don Richardson's Peace Child. In her down time, she greets people as a receptionist for our missions ministry here in Montana.
As a 20 year old, she heard me teach on the value of daily Bible reading. This particular morning, four years later, I noticed that she was writing out the gospel of John longhand so I asked her about it. She told me that four years ago, after she heard me teach about Bible study,, she decided to start writing the Bible out longhand.
Since 2002, she has written out during her daily devotional time the following Bible books: Genesis, Exodus, Leviticus, Numbers, Deuteronomy, Joshua, Judges, Ruth, 1 & 2 Samuel, 1 & 2 Kings, 1 & 2 Chronicles, Ezra, Nehemiah, Psalms, Proverbs, Ecclesiastes, Song of Solomon, Isaiah, Jeremiah, Lamentations, Matthew, Mark, Luke, Romans, 1 & 2 Corinthians, Galatians, Ephesians, Philippians, Colossians, 1 & 2 Thessalonians, 1 & 2 Timothy, Titus, Philemon, Hebrews, James, 1 & 2 Peter, 1, 2, & 3 John, Jude and Revelation. She is presently writing out the gospel of John and Ezekiel. She told me, "I have filled up notebook after notebook."
As we spoke, I noticed an engagement ring on her finger. I told her that I hope her fiance knows what a treasure he is getting in her. In fact, the writer of the Proverbs wrote that "her worth is far more precious than jewels."
I brought her into the SBS here in Montana to encourage our students and staff as I was both encouraged and challenged by her testimony and love for the Word. ~Ron Smith~
You can access Kirsten's ministry at Sidewalk Productions.