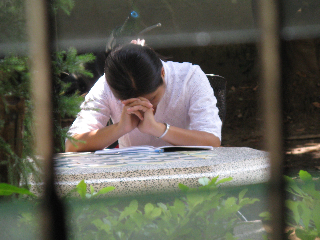 There are few experiences for an SBS teacher which are more fulfilling than giving instruction on how to understand the Bible to believers from an unreached people group.  Can you imagine standing in front of church leaders of an absolutely closed nation knowing that your input may be a part of the future fabric of their nations' believers?  For some in SBS, this is commonplace, but this was only my second opportunity doing this.
My name is Andrae Braun.  I have worked with SBS for just over twelve years.  This last September, my friend Byron Hartzler (SBS North Carolind [Lake Lure] co-director) and I had the opportunity of hosting a week-long inductive Bible study seminar for eight church pastors and leaders.
To give you a little BRI information, YWAM Turner Valley has been targeting an unreached people group in Asia named 'the Shan' for roughly 13 years. But it was not until a little over two years ago, after years of taking small steps to build relationship, that they asked us to specifically help them in the area of Bible study.  Jessica Braun (my wife and co-leader of the SBS here in Turner Valley) and I set out in April of 2008 to do a similar seminar.  It was such a wonderful experience for both sides that it has led us down the road to this seminar the Byron and I were doing.
Using helpful study materials from the Titus Project, we were able to jump in 2 Timothy with these faithful Shan believers.  The immense amount of time that we were given made it possible for us to give them a thorough experience in the book.  Each day, our guests of honour took personal risks to be able to attend our Bible study teaching.  Not only this, it was also extremely hot (maybe I was the only one who found this difficult), and teaching spanned six to seven hours a day.  What an inspiration it was to watch them devour what we take for granted at home!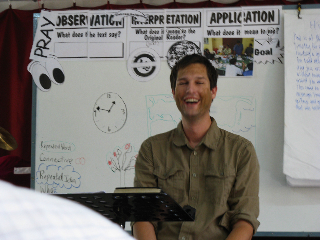 On the final day we spent a few hours processing and praying together about what God taught them personally.  They spoke of having little resources of any kind and being discouraged.  Furthermore, many oral learners in their small churches have little interest in pursuing a dynamic faith.  If you're from Canada – like we were – you just listen.  They described how challenging it was to be in ministry while supporting their parents and greater family.  To feel 'outside of a culture' took on a whole new meaning when we heard their stories.  We listened.  Some spoke of how they were afraid to share the gospel for fear of what others would think (and I assume what their government would do to them if they did).  In fact, one of the more meaningful moments for the class earlier in the week was feeling the assurance that if they were imprisoned, God would take care of them and be with them through it, and that their eternal protection menat more than physical safety.  We listend…and learned from them.
We really look forward to what the future will bring as we continue to reach out to the Shan.  Obviously we would like to do something more lon-term with them rather than a one-week seminar.  But for now we will continue to trust the Lord and joyfully work alongside them.
On the Future: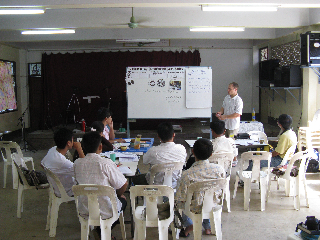 As SBS becomes more involved in directly impacting unreached people groups, the more the obstacles will become apparent.  One that immeciately comes to mind is having our inductive Bible study students later become Bible instructors of oral learners.  Bringing these oral learners to the point where they can learn what the Bible says and not just have a one-off experience in the Bible will be a challenge.  But even as I write this, I know there are people in the SBS world who have been working to meet this challenge.  The future looks bright, really bright!  But in this moment, the key is committing in our hearts to engage unreached people groups with the rest of the mission.  It starts with small steps.