By Judy Smith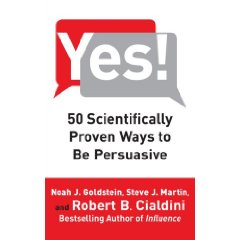 In December, Ron used his Birthday Gift card to purchase a book entiled, Yes!  That is a positive title.  The subtitle is: "50 Scientifically Proven ways to be Persuasive".
We all want to be more persuasive.  This book gives you 50 ways to get you started.  Each chapter is only a few pages.  There are even a few chapters on cross–cultural persuasiveness.  I will give two examples of how the study might help in SBS.
 "Other peoples' behavior influences us.  People insist it doesn't.

Social psychologists know better."
The book gives a study about a campaign to get hotel guests to reuse towels during their stay.  The first card placed in the hotel room attempted to motivate the hotel guest by appealing to a concern for the environment.  The second card appealed to the environment but added a line that said that the majority of hotel guests had reused their towels sometime during their stay.  The second card produced a 26% increase in participation.   They carried the study further and in the second line stated that the majority of guests who stayed in that particular room had reused their towels.  The result over the environment only plea was a 33% increase.
Let's say that most of your students finish their work but there a few students who don't complete their assignment on a consistent basis.  How can you motivate the few who do not finish?  I would suggest that maybe we could be more persuasive if we constantly make statements publically (in class) and private (to individual students) that the majority of the class finishes their work.
Another study shows the persuasiveness of personal testimony.  However, it is not just any testimony.  The study showed that the most persuasive testimony is from someone closest to the audience in age, ability and background.  Use student testimonies to motivate, but do not use the top student.  For example at the beginning of a school use the testimonies of the new staff . They are the closest to the students because they have just finished the course.
Hopefully you will get the book and add it to your resources.
Interested?  Watch Robert B. Cialdini on a 2 minute YouTube clip
Yes! (50 Scientifically Proven Ways To Be Persuasive) by Noah J. Goldstein, PhD; Steve J. Martin, and Robert B. Cialdini, PhD   –  Free Press.